Weight loss made easy with Burpees!
Do you find losing weight difficult? Especially when you're made to work out differently for different body parts?
What if I told you, it could be easier with just a simple "All-In-One" exercise.
Well, to put an end to your curiosity, its Burpees!
I bet you must have heard the name of this wonder exercise earlier.
Some of you might have even tried but with your thumping heart and lungs on fire, your body would have screamed you to stop hence now the thought of it also must be scary!
And for those who haven't tried this ever, I bet you'd be all scared with the above description.
But anyways, whatever be it, the good news is that if you want to change your body for the better, you'll have to push it out of your comfort zone and trust me burpees would be the best for all of it.
Wonder why do I say that?
Because you don't need a gym or ground to build great strength. It can be easily done at home.
So, are you guys excited to learn how to do Burpees?
Follow these quick and easy steps-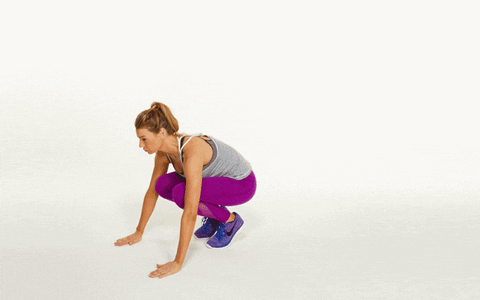 1. Jump in the air, as high as you can get.
2. Land up on the floor in the planks position.
3. Perform a push up with the arms bending inwards.
4. Stand up straight and again jump in the air and repeat the above.
Seems easy? With no special science involved? Kudos!
Burpees is basically all about the speed and the number of repetitions. Don't go too fast initially. Try with the minimum first; get used to the intense workout exercise and then gradually increase the repetitions.
Reasons why Burpees is the best HIIW exercise- 
Its a full body exercise; from arms,chest, quads, glutes, handstrings and abs, it helps in exercising each body part.
It doesn't require any gym or equipment. It is all by itself hence can be performed easily at home as well.
Burns huge amounts of calories.
It can be included in combination to any workout routine you wish to follow.
It increases endurance.
Common mistakes to avoid-
Don't skip steps-
As the body begins to tire, it might wish to skip certain steps in each rep but remember if you cheat, you cheat with yourself and not anybody else. Hence its advised to not skip the various steps in the burpees as all the steps are important as they work on some or the other core body part.
Don't increase the number of reps for the sake of it-
Its advisable that you increase the number of repetitions but only when you're able to do the technique right!
Simply increasing the reps and not doing them right won't benefit the body. So its important to get a hold on the right posture first.
Contract the core-
Remember, when you bend down in order to perform the push up, you have to contract your core muscles to make it effective for the belly.
Contraction helps to improve your muscle tone and strengthen your core.
So if you avoid these very common tiny mistakes, you'll be able to reap the best out of Burpees.